Perhaps it's that lingering moment of eye contact with your work crush that gets your gears spinning. Maybe seeing your partner entertain a pack of small children at an obligatory family function gets your toes preemptively curling.
Our turn-ons are a minefield of surprise stimuli, and it's hard to always know which ones will set you off. To try and discover more, we narrowed the field to find the reigning champ of enchantment, with the inaugural hers Ultimate Turn-Ons Bracket Challenge.   
Beginning with Round 1, we opened voting rounds over four categories: Physical Stimulation, Sensory Stimulation, Actionable Stimulation and Emotional Stimulation.

Round 1: Narrowing the Field
Sweeping competition with the most votes in the Sensory Stimulation category (358, to be exact) was the effect of a partner's scent. Be it a good body spray, or the natural pheromones that make your nostrils perk up, smell easily defeated Sexting to join Lip Biting in the Round 2 showdown.  
If the scent of someone draws you in, it's Neck Kissing upon arrival that sends most voters over the edge, with the choice receiving 81 percent of the votes in its category (higher than any percentages reported during Round 1 voting), and easily defeating Hand Holding with a 388 to 90 vote.
There was no shortage of nail biter moments in our first voting round, especially when it came time for the Lip Biting vs. Eye Contact showdown. In a 51 percent to 49 percent final tally, lip bites were able to squeeze into Round 2, joining Massages, which also earned 51 percent of the vote in its category and knocking Hair Play out of the running.
The unequivocal loser of the Round 1 was when a partner or crush plays hard to get. Receiving only 6 percent of the votes in its category, hers voters have made it clear that it's a good laugh that will beat out the challenge of uncertainty (almost) every time.   
Round 1 winners by category
Physical Stimulation: Neck kisses (81 percent, 388 votes) & massages (51 percent, 247 votes)
Sensory Stimulation: Your partner's scent (76 percent, 358 votes) & lip biting (51 percent, 245 votes)  
Actionable Stimulation: Good with kids (58 percent, 211 votes) & spontaneous (71 percent, 255 votes)
Emotional Stimulation: Makes you laugh (94 percent, 356 votes) & confident (54 percent, 204 votes)

Round 2: Down With Lip Biting & True Nail Biting Moments  
After Round 1 thinned the competition, our second round of voting sent us to the edges of our seats with an intense, close-vote showdown, and the total elimination of confidence (or, rather, 'Confident,' which received the fewest amount of votes in all categories after it was beaten by 'Makes You Laugh').
The biggest nail biter came down to the challenge between Spontaneous and Good With Kids. In the end, the ability to hang with the youth was just a little more enticing to some than a spontaneous gesture, squeaking into the Semi-Finals by a single 114 to 113 vote.
Massages received nearly 50 percent fewer votes than it experienced to achieve its Round 1 victory, proving Neck Kisses a formidable force in the competition. Scent also showed out as a powerful olfactory aphrodisiac, capturing 64 percent of the votes cast in the final Physical Stimulation bracket.
Round 2 winners by category
Physical Stimulation: Neck kisses (74 percent, 169 votes)
Sensory Stimulation: Your partner's scent (64 percent, 149 votes)
Actionable Stimulation: Good with kids (50 percent, 114 votes)
Emotional Stimulation: Makes you laugh (81 percent, 195 votes)

Semi-Finals: Down With The Kids
Good With Kids was unable to sustain its winning streak during semi-final rounds of voting. Falling short with only 23 percent of the votes, it was knocked loose from the running as Makes You Laugh charged to the final showdown.
Neck kisses and a partner's scent performed admirably for the entirety of the competition, but only one could prevail. After a dance of back and forth that left our knees shaking, Neck Kisses nibbled its way to the Championship.
Semi-final winners
Physical Stimulation vs. Sensory Stimulation:
Neck kisses - 61 percent, 169 votes
Actionable Stimulation vs. Emotional Stimulation:
Makes you laugh - 73 percent, 205 votes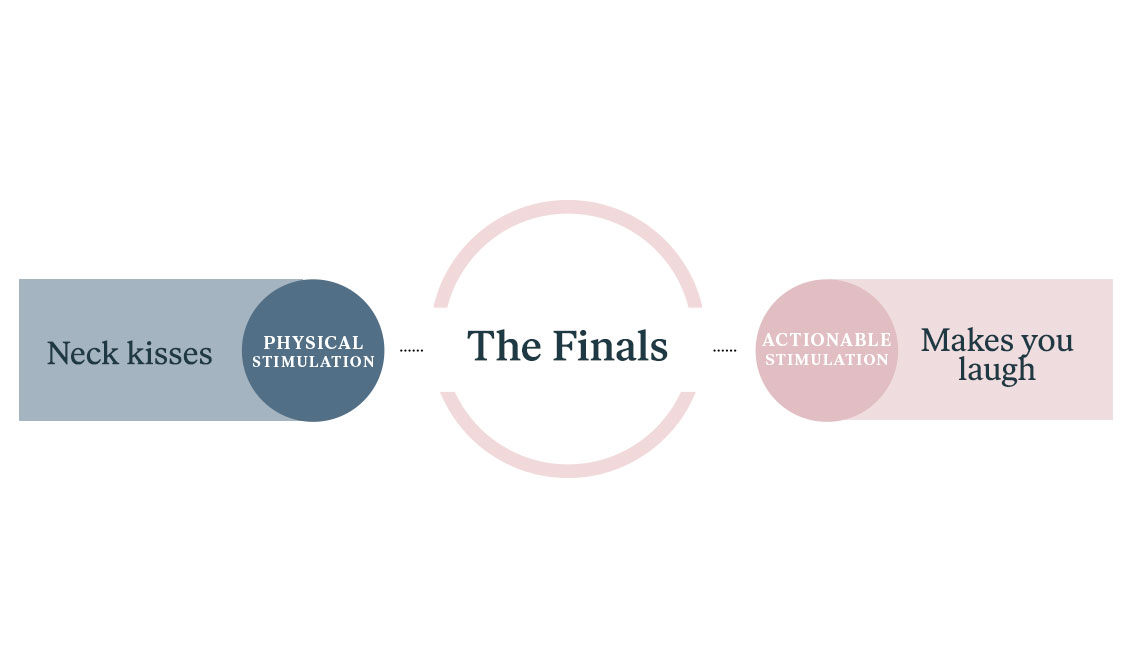 Championship: Winner Takes (It) All  
The Ultimate Turn-Ons Bracket challenge led us down a saucy road of sexual enticements, some more subtle than others. Hard choices were made and battles were waged between the senses, the head and the heart were fought and won. In the end, Physical and Emotional Stimulation sent their very best to the final round of voting, where hers users decided between Neck Kisses and Makes You Laugh.
Like all great Championships, ours left us with no shortage of uncertainty in the hours leading up to the last tally, with no sure winner until the poll was closed. Neck Kisses, though backed by a loyal group of nibbling nymphos, took the second place trophy as Makes You Laugh rose to the top as our bracket champion.
Final takeaway: Make sure you have a good joke prepared the next time you want to get lucky, it just might get you there.   
Championship winner
Physical Stimulation vs. Emotional Stimulation:
Makes you laugh - 53 percent, 147 votes
hers vs. hims Turn-Ons Bracket Challenges
Our brother site, hims, also conducted an Ultimate Turn-Ons Bracket Challenge, which yielded some remarkable similarities and differences. During the first round of voting, both polls sent the same choice in each category to Round 2, often with nearly identical voting percentages. For example, Massages on both accounts narrowly edged past Hair Play, receiving 51 percent of the vote on hers, and 52 percent of the vote on hims. On both accounts, additionally, spontaneity trumped charitability as a turn-on, with Spontaneous receiving 71 percent and 70 percent of the votes in its category on hers and hims, respectively.   
If you're thinking about playing hard to get with your crush, our data suggests that you may want to reconsider. Receiving the lowest voting percentages on each account (only 6 percent on hers and 9 percent on hims), Hard to Get was eliminated and the only option to receive single-digit voting percentages.   
Figures didn't completely mirror each other, though. Results split apart in the Actionable Stimulation category during Round 2 of voting round, with hers voters sending Good With Kids to the Semi-Finals, and hims users favoring Spontaneity with 60percent of the overall vote. In the Sensory Stimulation court, 64 percent of hers voters ruled that their partner's scent sent them quaking, while 58 percent of hims users proved partial to lip biting.  
Each account entered the Championship with the same two competing turn-ons: Neck Kisses and Makes You Laugh. In the end, 276 voters participated in the hers final round of turn-ons voting, while hims tallied 275 votes. At the fever pitch of the voting, the accounts split nearly down the middle, with hers crowning Makes You Laugh as the champion at 53 percent of the vote, and hims users departing to attach their loyalties to Neck Kisses, coming in at 52 percent of the final competition vote.
No matter the brackets, the percentages or the selection of turn-ons used for the challenge, it's important to remember that we're all unique when it comes to arousal. You might love the way your partner exudes confidence, or the way they give your shoulders a squeeze after you've had a long day. You may also, on the other hand, experience none of those feelings, while some of you haven't quite figured out what it is that unlocks your sexual desire.
Prescription Addyi® is available for women struggling with decreased sex drive. No matter your preferences, hers is here to help women maintain their sex lives with the power and independence they deserve.